Vegetable Thai noodles.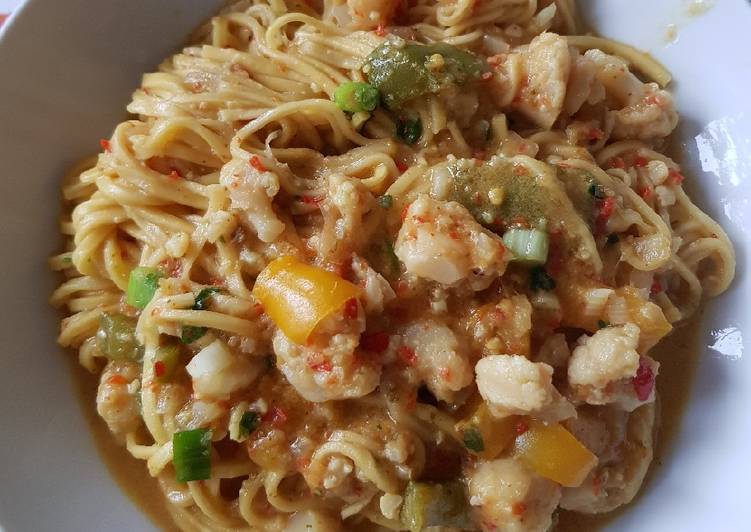 You can have Vegetable Thai noodles using 16 ingredients and 6 steps. Here is how you achieve that.
Ingredients of Vegetable Thai noodles
You need 6 of large hot red chillies, roughly chopped.
It's 2 of large white onions.
Prepare 8 cloves of garlic.
Prepare 2 of thumb size pieces of ginger, peeled.
You need 1 stick of fresh lemon grass, chopped finely.
It's 1 bunch of coriander (stalks and leaves).
Prepare 1 of lime (rind and juice).
Prepare of Fish sauce.
Prepare of Curry powder.
Prepare 1 of medium cauliflower chopped, into small chunks.
It's 2 of large bell peppers, chopped into small chunks.
It's 1,400 ml of vegetable stock.
It's 2 (400 ml) of tins of coconut milk.
You need 2 of nests of medium egg noodles for each person.
Prepare of Brown sugar.
Prepare 3 of large spring onions, thinly sliced.
Vegetable Thai noodles instructions
In a food processor add all the chillies, 1/2 of a white onion, 5 cloves of garlic, 1 piece of ginger, all the lemon grass, the stalks of the coriander (save the leaves for later), 1 sliver of peeled lime rind, 1/2 tsp of fish sauce and 3 tsp of curry powder. Blitz until it forms a paste, you may need to add a bit of water to bring it together..
Finely chop the remaining white onions, mince the remaining garlic cloves and grate the other piece of ginger. Take out a large pot and put it on the hob on a medium heat. Add some oil and then fry the onions, garlic and ginger together for a couple of minutes..
Add the cauliflower and peppers to the pot. Then add all of the paste you made earlier and stir well until everything is coated..
Add the coconut milk and vegetable broth. Stir well then put the lid on top of the pot and turn the heat down slightly. Simmer for 20-30 minutes or until the cauliflower is soft..
Add 1 tbsp of fish sauce, 2 tsp of brown sugar and the noodles to the pot. Replace the lid and simmer for another 10 minutes..
Remove the pot from the heat and add the juice from the lime, the chopped up coriander leaves and the spring onions and stir well. Serve in bowls..